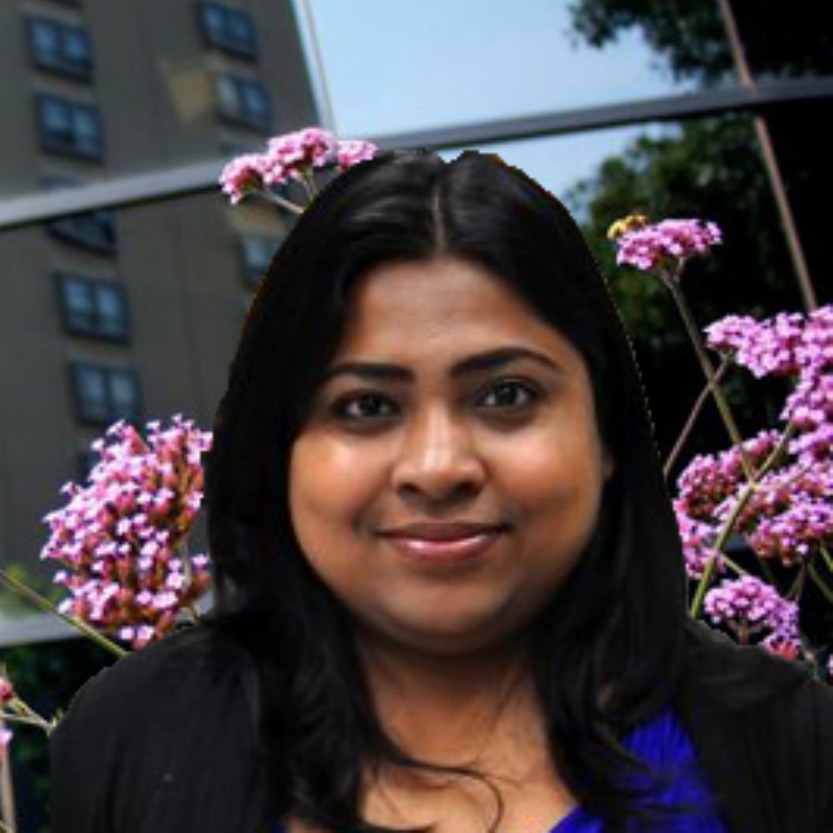 Could a simple blood test help detect breast cancer? That's what Dr. Majumder and her team of researchers at Brandon University in Manitoba are hoping to find out. Dr. Majumder, Assistant Professor in Cancer Genetics and Cell Biology, is screening blood plasma from breast cancer patients and patients who don't have breast cancer to determine if there is a blood biomarker like micro RNA (miRNA) that could potentially tell us when breast cancer is present or growing in a person. If the miRNA is higher in patients with breast cancer and are easily detected through a blood test, this could significantly improve the way that we are able to diagnose breast cancer and also detect when it's spreading in patients. Wouldn't it be great if a simple blood test could replace mammograms, scans and ultrasounds in the diagnosis and monitoring of this disease? It would definitely be less invasive and time consuming for patients and the general public.
We sat down with Dr. Majumder to learn more about this research, how patients can participate and when she expects to have more answers.
Could you explain a little more about this micro-RNA and what you're looking for in terms of detecting breast cancer?
MicroRNAs (also known as miRNA) are essentially small RNA that plays a role in regulating gene expression by deciding what genes are turned "on" or "off". Genes makes proteins and every function our body plays is regulated by proteins. Because miRNA play such a key role in gene regulation, if we get too much of a miRNA or too little of a miRNA, this can lead to problems in our body. This is why these miRNAs are often found very high expression in many cancers, including breast cancer. The advantage of miRNAs is that they can actually be found circulating in our blood. Our question is whether or not we can take a simple blood test to measure the levels of a specific microRNA, and whether this can help us to either diagnosis a breast cancer patient or give us insight into whether the cancer is spreading.
You're testing this with blood plasma samples from breast cancer patients as well as breast tissue samples??
Yes. We are comparing the levels of miRNA in the blood plasma with the levels of miRNA in breast cancer tissue in order to see if the levels of miRNA in the blood are reflective of what is actually happening in the tumor tissue.
You're then comparing it to the blood plasma and tissue samples from individuals without cancer?
Yes, the purpose of this is so we know what "normal" levels of miRNA are supposed to be in both the blood plasma and tissue. Because our body make this miRNA to control many gene expression. This way we can compare the levels of microRNA in breast cancer patients to levels in cancer-free individuals and see if there is a difference.
Do you have any early results? And, do you have a timeline on when you think the final results of this work will be published?
We have preliminary results that we have recently presented in various conferences and few conference proceedings already published, which indicate that the two specific miRNA we are working with, microRNA526b and microRNA655, are present in the blood plasma of breast cancer patients at higher levels compared to cancer-free individuals. We are working towards gathering more results and publishing our findings within the next year.
If patients are interested in participating in research, who can they connect with to find out more about research that's being done in their area or cancer centre?
This is a multi-center study. Me and my group at Brandon University processing patients plasma samples, extracting RNA and screening miRNA in all samples. Dr. Muriel Brackstone, oncologist and surgeon at the Lawson Research Institute, London, Ontario recruits participants. Dr. Brackstone is the Director of Tumor Bank, which stores all blood samples from participants. Then our collaborator Dr. Peeyush Lala at Anatomy and Cell Biology Department at the University of Western Ontario selects which samples from the pool as we need (benign, malignant, hormone receptor positive, negative, tumor stages etc.) and send us those samples. For participation patients' can contact Dr. Brackstone at the Lawson Research, London, Ontario.
---
Dr. Mousumi Majumder Bio:
Dr. Mousumi Majumder is a cancer geneticist and cell biologist. She is an Assistant Professor at the Biology Department at Brandon University, Manitoba. Long-term goal of Majumder lab is to improve breast cancer diagnostics and early detection. Early detection requires a sensitive molecular biomarker (like miRNA), which could be easily detectable in body fluid (blood), less invasive to collect and results are comparable to traditional tissue biopsy. Majumder lab identified two such miRNAs miR526b and miR655 in aggressive human breast cancer cells. With cell, molecular and proteomic approaches they are validating the roles of these miRNAs as regulator of breast cancer metastasis. They are also investigating the roles of prostaglandin (PGE2) in miRNA regulation and testing PGE2 inhibitors (anti inflammatory drugs) to block miRNA expression in breast cancer. In human tumor samples, both miRNA expressions are significantly high in metastatic breast cancer biopsy samples compared to pathologically normal breast tissues. And now with breast cancer patient's blood plasma they are investigating miRNA expression in malignant and benign plasma samples to establish them as biomarker for breast cancer.
To know more please see the website https://people.brandonu.ca/majumderm/