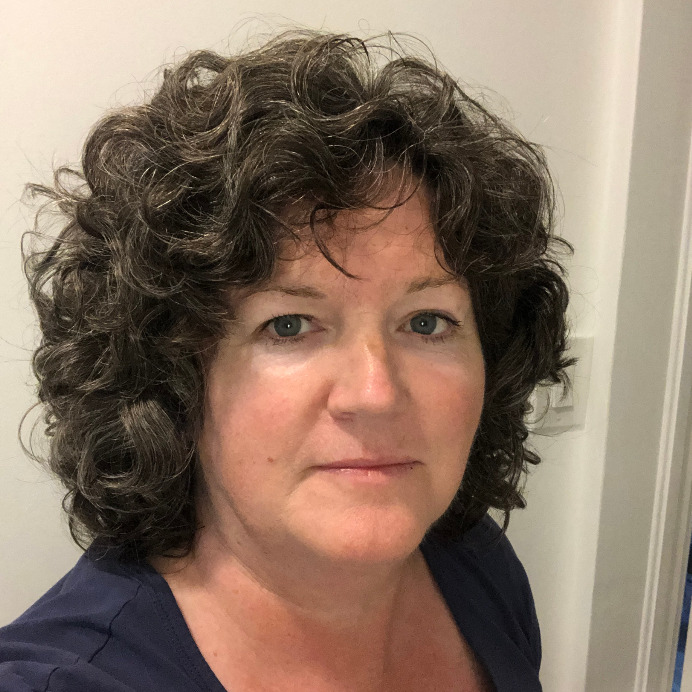 By Kitt Ritchie
I have advanced stage 4 Metastatic Breast Cancer (MBC). MBC is when breast cancer has spread to other parts of the body. Typically, it spreads to the bones, liver, lungs, and brain. There is currently no cure for MBC but there is treatment, and some women can live for many years.
I was diagnosed with MBC in December 2020. I had a double mastectomy after being told I had early-stage breast cancer. When the pathology results came back two weeks later, I found out that it was stage 4 and that it had spread to my lungs and my bones. My lungs appear to have healed over the past two years however (yay!) and now my cancer is currently in my bones only - my spine, ribs and both hips. I take chemotherapy type drugs every day (pills) which have a lot of nasty side effects. I am in pain most days but, for now, it is tolerable. I feel like crap, and I'm exhausted most of time but I'm glad I haven't lost my hair! And every 3 months I get a drug intravenously at the hospital. It's a bone strengthener and an anti-tumour agent.
MBC is invisible. I don't look sick. In fact, if you look at me you would never guess that I am dying of cancer. In fact, you'd take one look at me and think that I am the absolute epitome of health. I have a thick head of curly hair. I am chubby (aka quite overweight), and I have red, rosy cheeks. I look the same as I always have except a little heavier. Some of our treatments – estrogen blockers and steroids, in particular – cause weight gain, hot flashes and red faces. Those are really the more pleasant of side effects.
My disease is currently stable and has been for 1.5 years. For the time being, my treatment has stopped my cancer from spreading. When it begins to spread (and it will) they will change my treatment. There are several different drugs I can try and many of them work well to slow down the spread of the disease. I should have several years left to live. How many? No one really knows as this disease is quite unpredictable, but I am guessing that I might possibly live another 4-8 years if I'm lucky – and if I can stand it. I'm 56 and I expect to get to 60. To be very honest, I'm not sure I'll see 65. It is what it is, and I've accepted it. Most days now I'm really okay with it. It's weird.
So, for now I have my good days and I have my bad days. Sometimes I have "bed" days as my body just won't, or can't, do much of anything. Some days I have energy for a few hours, but these days are getting fewer and farther between. I can't do what I used to do. I get tired very easily. I am no longer allowed to do all of the sports that I used to love. No more skiing, no more horse back riding, no more long swims, or snorkelling, no more golfing…. I'm at high risk for fracture and with spine involvement I have to be careful. Even vacuuming is not something I should do too much of. I won't miss vacuuming, however. Thankfully, my partner loves to clean and vacuum! I can walk. Walking is good for us, and I love walking in nature. I was always very active and physically strong. I feel myself getting weaker even though I stay as active as I can. It is incredibly frustrating and it's the thing that bothers me most about this illness. I regularly push myself too much – usually to complete and utter exhaustion – and then I collapse in bed for a day, sometimes two.
MBC patients have continual cancer treatments every day for the rest of our lives. It's not much fun. Multiple scans every few months, IV treatments, chemo, radiation, bloodwork, ongoing hospital visits, oncologists, doctors' appointment after doctors' appointment. It's certainly not how I pictured retirement. Not at all. And as my pain worsens, I will begin to lose my zest for life. I don't plan to stick around until the bitter end. Once life ceases to be pleasant, I will be checking out of here. No one will be feeding me or changing my diapers - THAT you can be sure of! Living and dying with my dignity and with my independence is of the utmost importance to me. There is being alive and then there is quality of life.
Life is still tolerable at the moment, however. I somehow manage to put cancer away in a pocket most days and I'm able to just enjoy living. Denial has become a really good thing. Denial is not something I have ever been good at - it's a new skill that I'm learning. Denial is a good place to be for someone with a terminal illness. It's where I feel normal again. Where I don't feel sick. Life is short and it's getting shorter for me, so I'm just trying to live life as best as I possibly can and for as long as I possibly can. It's really all any of us can do.