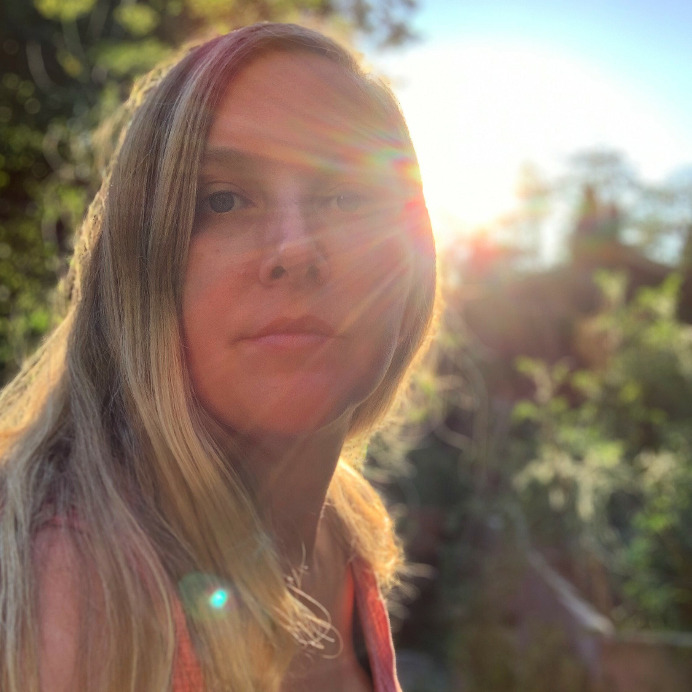 By Ashley Blair Doyle
Adapted from a social media post originally shared on Ashley's Instagram
Five years ago, I shared that I made it 5 years out from the day I was told "it's breast cancer." 6 months after that, I was diagnosed with stage 4 breast cancer. I was in the 30% of early-stage breast cancers that eventually becomes metastatic.

It's now been TEN YEARS to the official diagnosis day where I was 28. Likely chance I was even 27 when it began to grow in a benign cyst. TEN YEARS. I'm grateful to still be here. I've lived nearly the same 5-year duration with breast cancer cells in my lungs, lymph nodes, and more recently, in my brain. TEN YEARS since I was told I was early-stage. 4.5 years knowing I was now living with stage 4 breast cancer. It never made sense being so young facing this, and yet, eventually I received a large panel genetic testing which explained WHY.

I was born with a massive exon 9 and 10 deletion in the gene PALB2 (Partner & Localizer of BRCA2). This gene variant that I inherited from my Slovak grandmother happened to be very high-risk in developing breast cancer, yet I didn't learn about it until Spring 2018. From my own research I learned PALB2 at stage 4 also had a likelihood to go to the brain. To have lived with breast cancer in the brain for a few years, with brain radiation twice, craniotomy temporal lobotomy, seizures, immense pain and breaking a bone in my arm in convulsion (the first break in my life)… I have been in crisis.
2021 was a crisis for me and my husband Mike. It was the hardest, most challenging, and devastating year living with stage 4 breast cancer in my brain and facing so much else.
Living through major surgery, grief, losses, anxiety, physical pain, mental health troubles, vision issues, fear and to add to all that, this awful pandemic.

2021 was absolutely horrible.

Breast cancer has taken so much from a path I thought I would live. I wish nothing more than to have not inherited a PALB2 variant error. I wish nothing more than for my body to slow the confused cells down that continue to spread. That these cells, though they have no brain themselves, would stop 'thinking' they must grow. Damn cancer knows nothing. It just mutates and 'thinks' it needs be here. Of course, I want to be here even more, and wish the mutated cells would somehow disappear.

January 3, 2012 - January 3, 2022. I am still here. I will do anything to continue to be here for as long as possible.

In 2022, I wish and hope for miracles.
---
Learn about submitting your own patient story here.